Jeff Weborg turns from the pilot house after setting the boat's autopilot so he can continue to clean fish. Jeff and his brother Mark run one of the last commercial fishing businesses in Door County, an area known for its particularly treacherous waters, an area where hundreds formerly fished.
Andrew Weborg, left, plays with his cousin at Andrew's grandparents house. Jeff and Betty Weborg live in the former summer kitchen house that has belonged in the multi-generational fishing family for decades.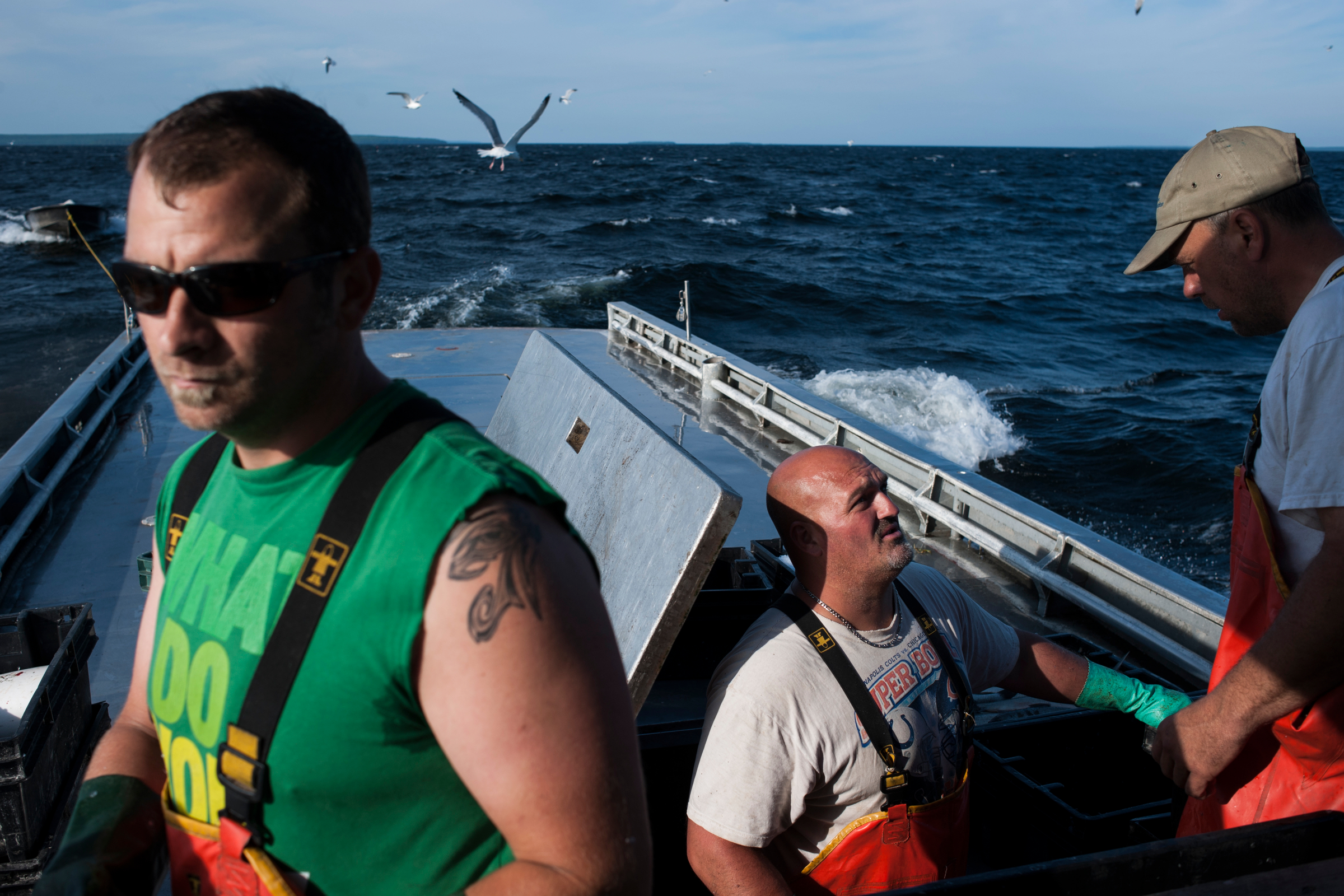 Eric Weborg, left, and his crew mates Big Jim, center, and Slim, work on cleaning fish and stowing them in ice below deck on the boat, Heather J., after a morning fishing. The Weborg family has been fishing the area for generations but environmental, economic, and political factors have put strains on business.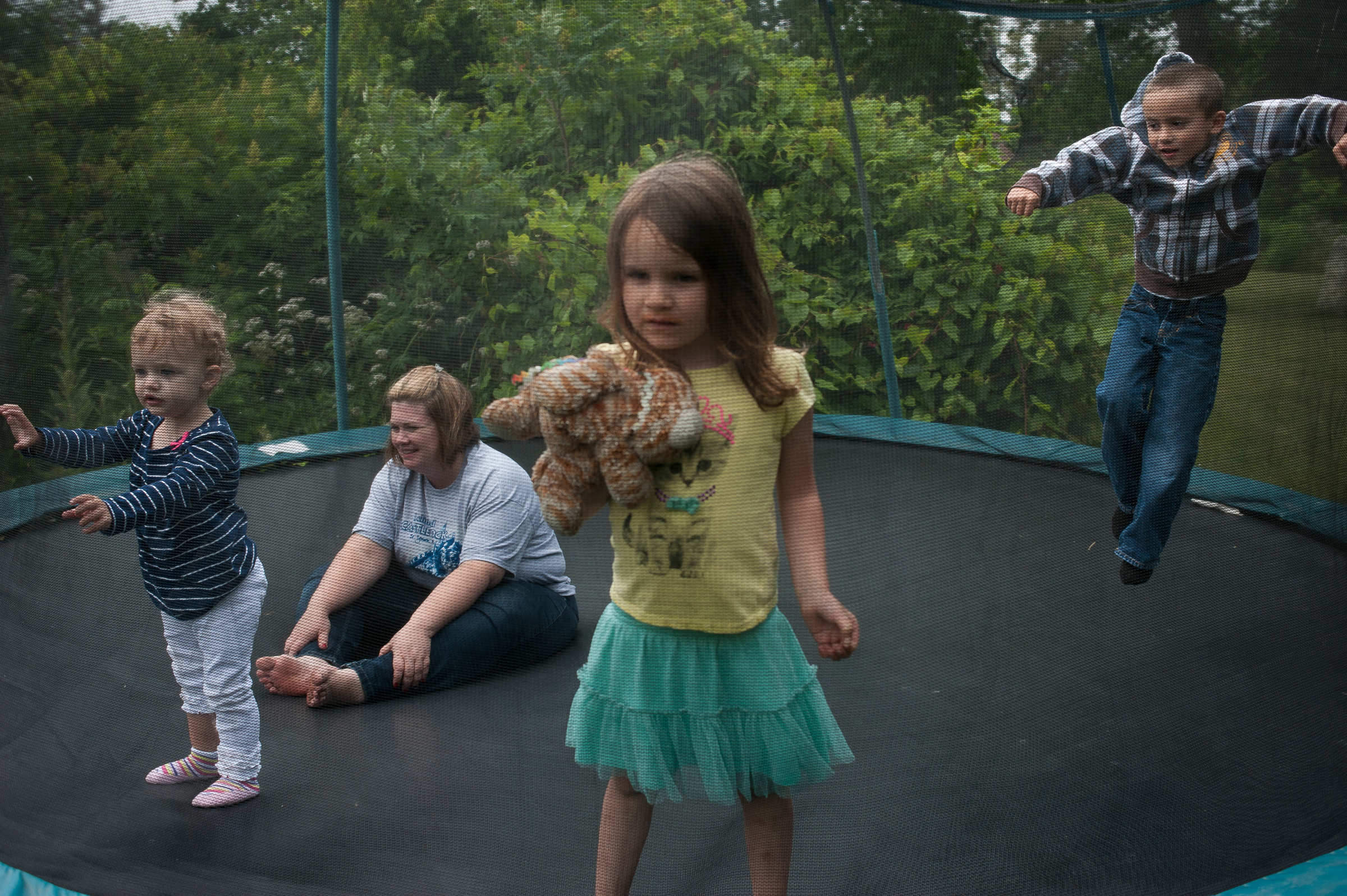 Members of the Weborg's extended family play on Jeff Weborg's trampoline outside of his home near the docks in Gills Rock, Wi. The Weborg's have a large extended family, many of whom still live in the area, and host visitors frequently throughout the year.
Eric Weborg and his son Andrew on the first day of bow deer hunting season.
Peter Berns, a friend of Eric Weborg, pilots his small boat in after the sun sets on steelhead salmon fishing. Peter and Eric fished off Death's Door and returned to the docks that the Weborgs own and rent out to people who then do fishing trips for tourists.
An old Ford truck, modified with a refrigerator container, sits waiting for cleaned whitefish to be offloaded by Eric Weborg, center, and his father Jeff, then prepared, and sent to local restaurants.
Community members and tourists line the shores of Gills Rock, Wi. as the Weborg fishing vessels take part in a parade of boats on the 4th of July. Later the Weborgs would take their boat out to the middle of the bay to put on a professional fireworks show, one that would nearly send the crew overboard because of a misfire.
Eric Weborg sleeps on the Robyn B. as the crew heads out to pull nets. The crews fish 3-4 times a week, starting early in the morning, depending on orders or the number of fish caught on previous days.
Robyn hands her mother Betty a phone call from a friend wishing her a happy birthday. Family, faith, and friends take precedent for the Weborgs who seem to host a number of get-togethers each month and give thanks for these things even when work is hard.
Jeff, left, Eric, and Rick Johnson pull nets on to the Robyn B., a commercial fishing vessel modified and run by the Weborg family for summer whitefish season. Johnson owns his own boats and fishing license but there are not enough people available to crew boats.
Jeff plays with his granddaughter Mia at a family member's home near the water. Jeff and his wife Betty cared for Mia from a young age and they still spend time together, riding on Jeff's moped or playing on the trampoline.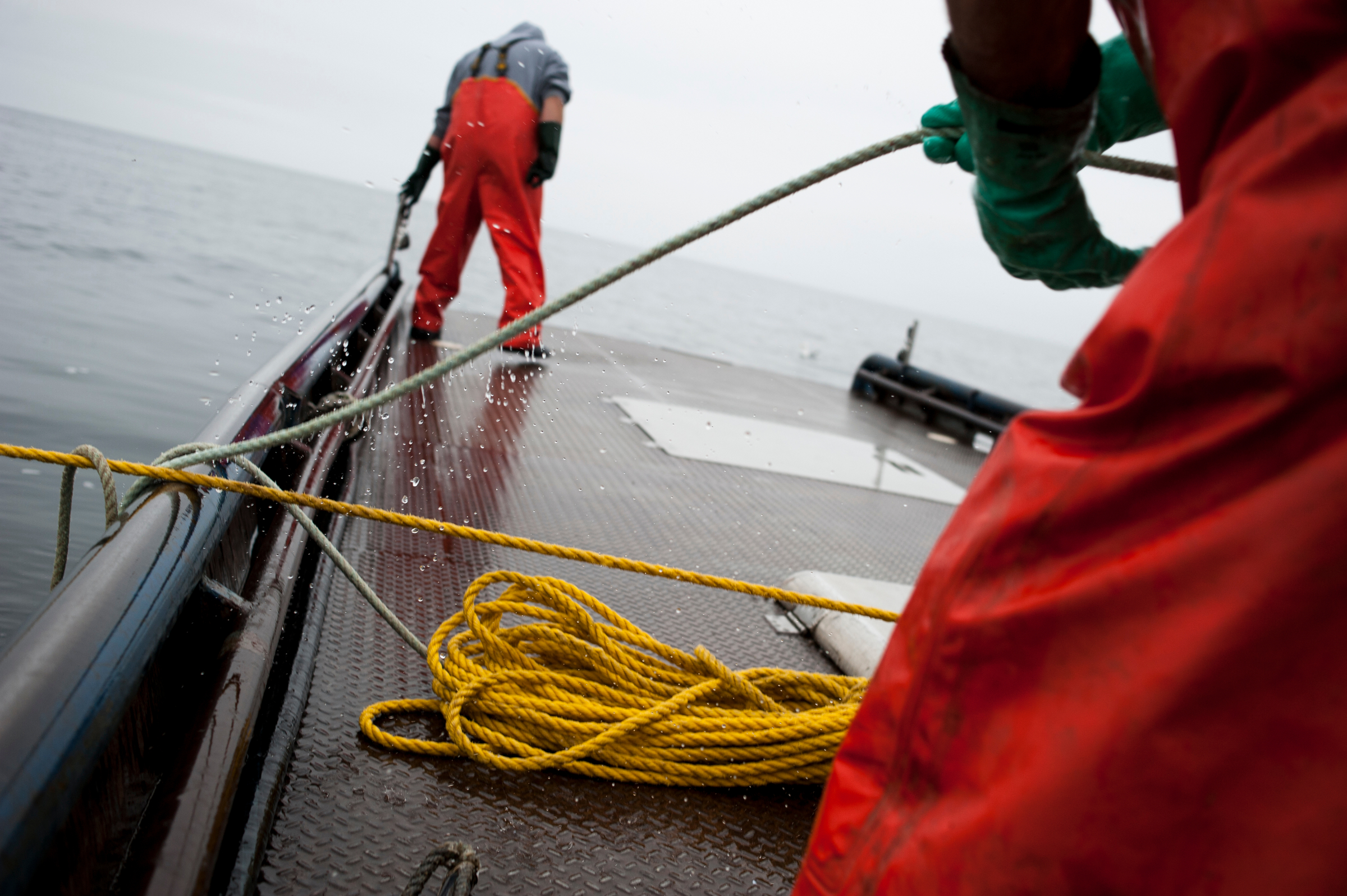 Jeff Weborg hauls a line as his son Eric prepares for a new net (hopefully) full of fish on a windy and wet day out on Death's Door.
The Weborgs and their crew start cleaning whitefish as the autopilot guides the boat back in. The whitefish then gets prepped further on the shore and driven to local restaurants.
Kids play on a trap net fishing boat, laid up in disrepair in part to a shortage of crew to run the boat. The boat belongs to Rick Johnson who now fishes with the Weborg family since the downturn in the fishing market.
The Weborg family puts on their annual Labor Day fish boil near the family docks in Gills Rock, WI.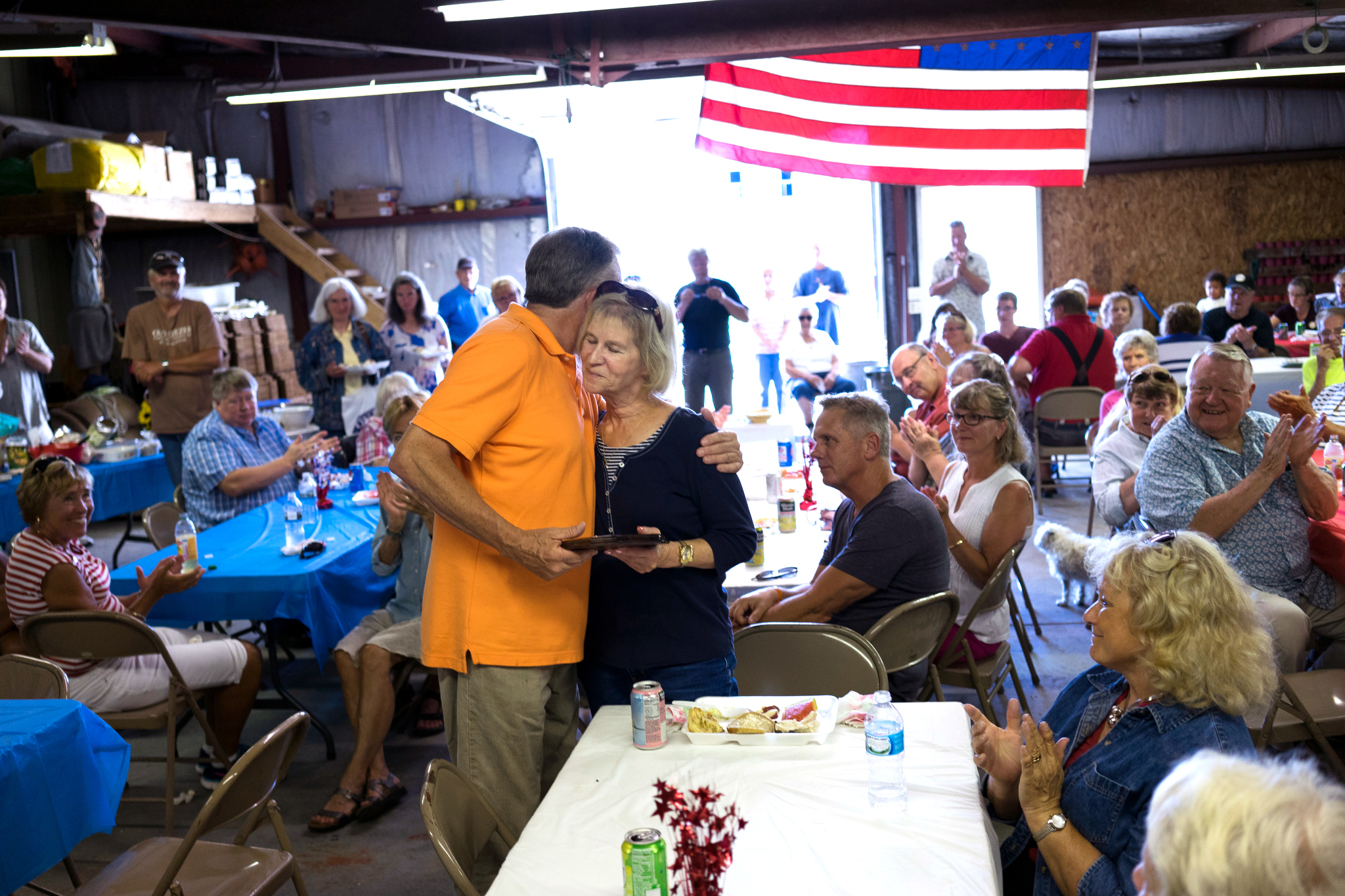 Betty Weborg is presented with a plaque honoring her late husband Jeff, a lifelong fisherman, as the family puts on their annual Labor Day fish boil near the family docks in Gills Rock, WI.
Jeff Weborg sprays his grandson Andrew while cleaning out a boiler after boiling potatoes for a family reunion fish fry. Fish and family are inseparable for the Weborgs but with fewer younger people willing to wake up early to make a career out of fishing such a relationship between business and tradition may be dying out.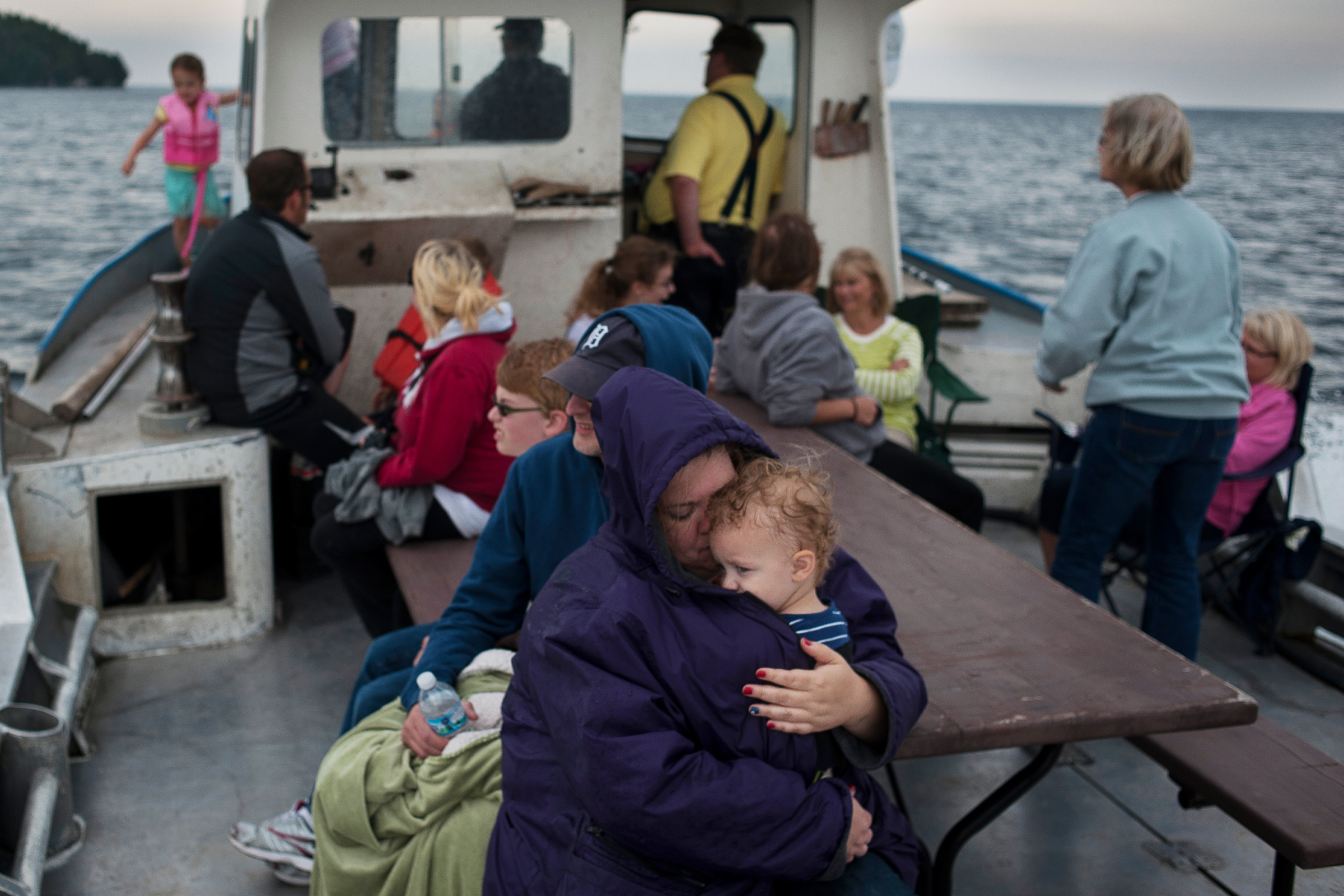 Out on the water on one of the family boats, the Heather J., Heather Knop shields her daughter Molly from the weather as Mark Weborg captains the commercial fishing boat for a family picnic.