Meech greets a friend while hanging out in the Bermuda neighborhood of Ferguson, Mo. Their group calls themselves Fatty Gang, named after their friend, 20 year-old Antwon "Fatty" Smith, who was shot to death in February, 2015.
Davyin Morris, 2, plays with his aunt Abreyale Carter, 11, in the Carter family home. Morris' mom told him to go fight Abreyale after she took one of his Capri Sun packs, saying "I told you, if someone takes something of yours, you have to fight them.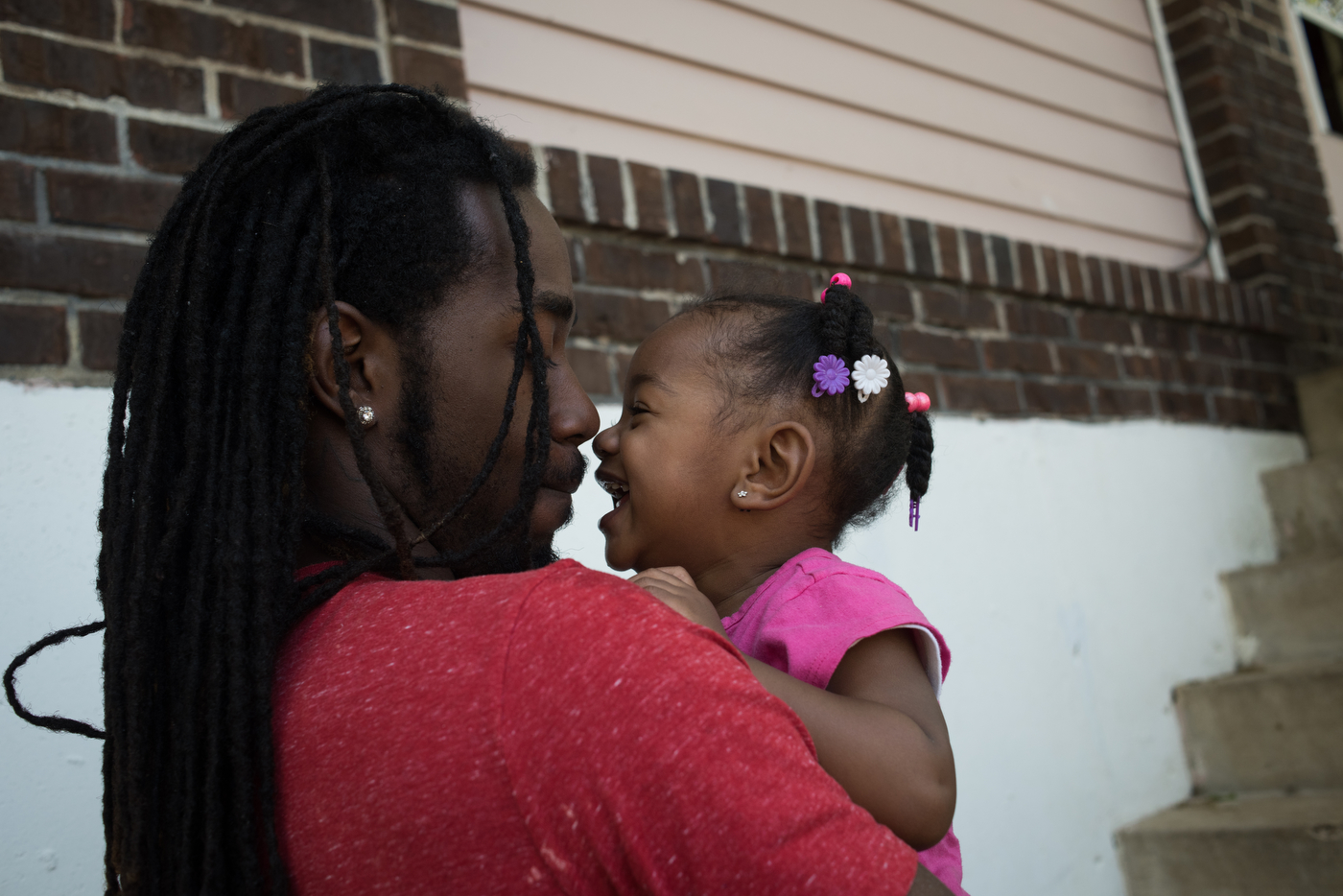 Raymond "Trip" Williams plays with his 18-month-old daughter Rayne at his grandmother's house in Ferguson, Mo. Trip, who is separated from Rayne's mother, recently secured a job in an effort to provide for his daughter better, motivated by seeing some of his friends grow up without both parents around.
Kids play basketball on the corner of Halpin Drive and Lagonda Avenue where a young man named Demetrius "Trap" Stegall was killed in 2009. Trap was involved in a robbery and after a large group argument earlier that day, an associate of the person who was robbed returned to the corner and opened fire.
Families attend area Catholic school first grade softball games at fields behind the Blessed Theresa of Calcutta Catholic Church in Ferguson, Mo.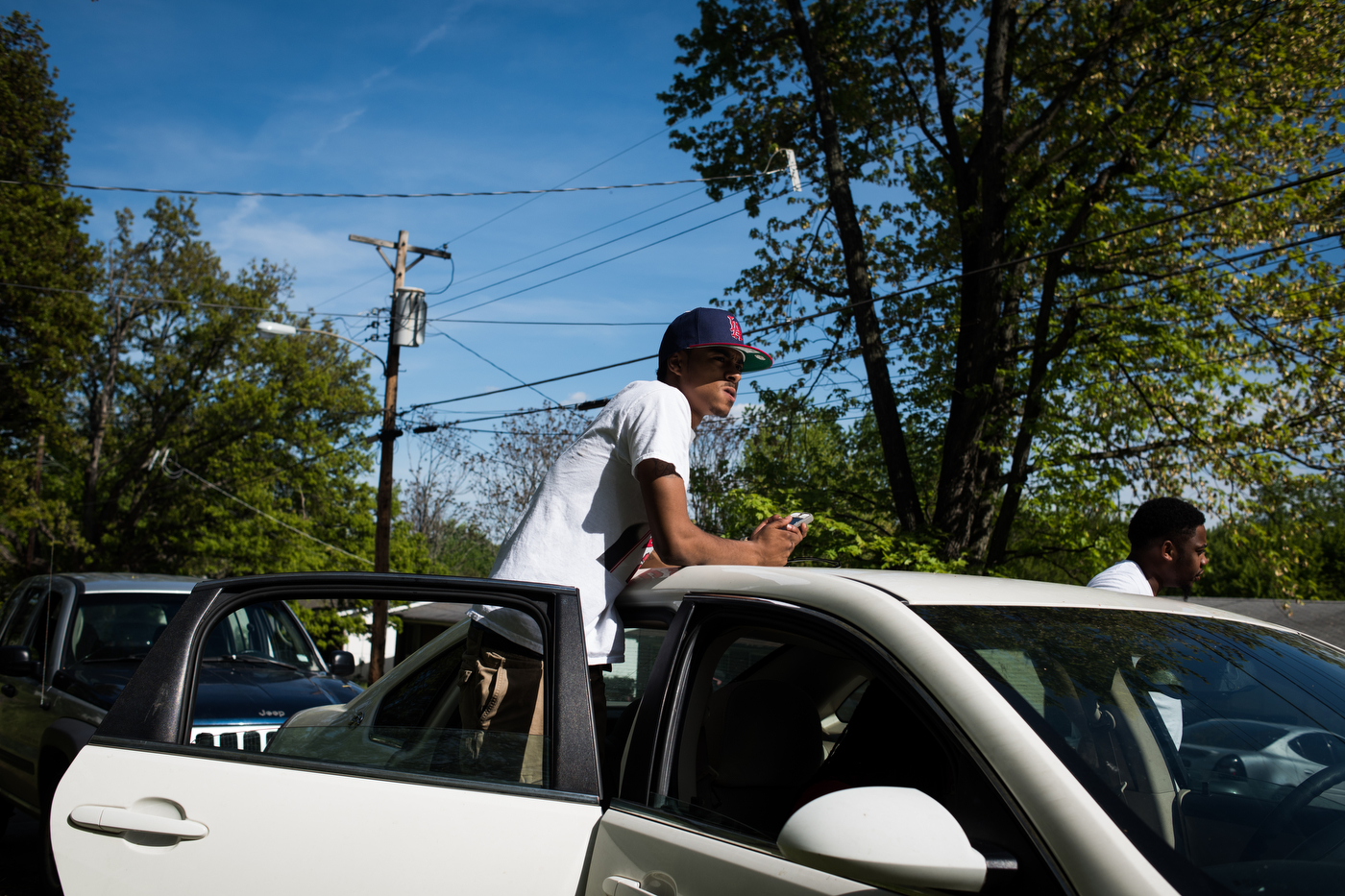 TJ Banks surveys the street while hanging out with friends in the Bermuda neighborhood of Ferguson, Mo. Banks stopped attending college because of high costs but was hoping to save up money to return to school.
Ant, Jorden, and a friend watch as two kids (not seen) fight during a friendly basketball game in the Bermuda neighborhood of Ferguson.
Grace Williams, a high school freshman from Ferguson, kisses Patrick Clinton, a sophomore, while at Forestwood Park. The two had been flirting for a few weeks but hadn't quite figured out if they were officially dating.
Ghost, the Ankenbrand family's cat stretches after napping in their Democrat-themed guest room of their house in a more historic neighborhood in Ferguson.
Trip eats fish sticks in his mother's kitchen as his friends hang out in the next room.
TJ gets a haircut in Ferguson.
Richard clears an overgrown yard of a rental house in the Bermuda neighborhood of Ferguson, Mo. Code enforcement officers are a common sight in the neighborhood and ticket people for long lawns and many discretionary violations like "disturbing the peace." Code enforcement accounted for $2.46 million dollars of the city's budget in 2013.
Ank Ankenbrand waters the lush gardens of his home in Historic East Ferguson, an area rarely targeted by code enforcement officers.
Friends hang out while waiting for a vendor to finish printing t-shirts in memory of their friend Darnell Smith who was killed by a member of their group. Smith's brother "Fatty" was killed just a few months prior and the friends speculate that the same person may have been responsible for both killings.
An historic house in the Old Ferguson West neighborhood.
Members of the Ferguson Police Department watch as a member of the department receives an award at a city council meeting for rescuing a young girl who was found close to death. Also on the docket for the evening, as usual in the year after the protests, were issues related to federal accusations against the police department and city's behaviors.
Ank and Susan Ankenbrand discuss their evening plans while relaxing in the study of their home in an historic neighborhood of Ferguson. Susan was a councilwoman in Ferguson for 16 years and Ank, a college professor, was on the school board for some time as well.
Friends hang out at the condo of Carlette Williams (right) at the Brentwood Townhomes in Ferguson, Mo. William's sons' friends are the sons of many of her former drinking and smoking buddies from when she was that age.
A woman and her son watch as Meech smokes a blunt the night before the funeral of their friend Darnell Smith.
A woman plays with her granddaughter during Sunday worship in Ferguson.
Redd waits for a friend in his Cadillac Escalade before going to the liquor store to buy more Hennessey. Redd and his friends hang out on the street outside of a parent's home, under their watchful eye.
Rev. Jerry Reese preaches to Sunday school at the Christ Love Devine Missionary Baptist Church.
Members of the congregation worship at Zion Lutheran Church, a predominantly white parish. The congregation is largely over 60, with the only children in the congregation coming from the few black families that changed churches after the closing of another Lutheran church in Kinloch, Missouri.
Rosalyn Carter recalls her troubled life when she lived in the dangerous St. Louis suburb of Kinloch. She and her husband moved into Section 8 housing in Ferguson but circumstances have not been easy for her family, due in part to the repeated arrests of her husband for minor traffic violations.
TJ Banks laughs at a joke in a friend's mother's condo in Ferguson.
Latonya Williams and her son Carlos Williams attend worship at the Christ Love Divine Missionary Baptist Church in Ferguson, Mo.
Maurice and Cal hang out at Rosalyn and Earl Carter's home on a Saturday night. Rosalyn Carter rules her block with an iron fist and does not allow gang activity to happen on her street, so some kids will hang out at her home instead.
The necktie and jewelry of a visiting pastor at one of the many baptist churches in Ferguson.
A woman waits at a counter to be served at a local business in Ferguson, MO.
Parishioners leave Christ Love Divine Missionary Baptist Church after Sunday worship. When the congregation bought the building 35 years ago from the original owners, a white church, they marched down the street to celebrate their first service; someone in the (then predominately white) neighborhood called the police in confusion.
Members of Fatty Gang compare guns and hang out on a street while waiting for the start of the Floyd Mayweather/Manny Pacquiao fight later that evening. All the guns shown here are legally owned, though one of the group owns a number of illegal weapons despite felony gun possession convictions.
Posters of memorials are pasted to the wall at a local business that specializes in printing memorial t-shirts, a large portion of which are for young men who have been killed by gun violence in Ferguson and surrounding neighborhoods.
Courtney Smith, left, boxes his cousin Michael Hancock outside Hancock's stepfather's home. Eric Dillon, Hancock's stepfather and Smith's uncle says he was one of the few kids he grew up with that stayed out of jail and uses his experiences to be a strong influence on his son, step-son, and nephew.
TJ Banks goes to take a drag from a blunt while on a street corner in the Bermuda neighborhood in Ferguson, MO. After taking a semester off from community college to save money, TJ, his high school-aged neighbor Jorden (left) and their friends spend much of their time smoking and drinking.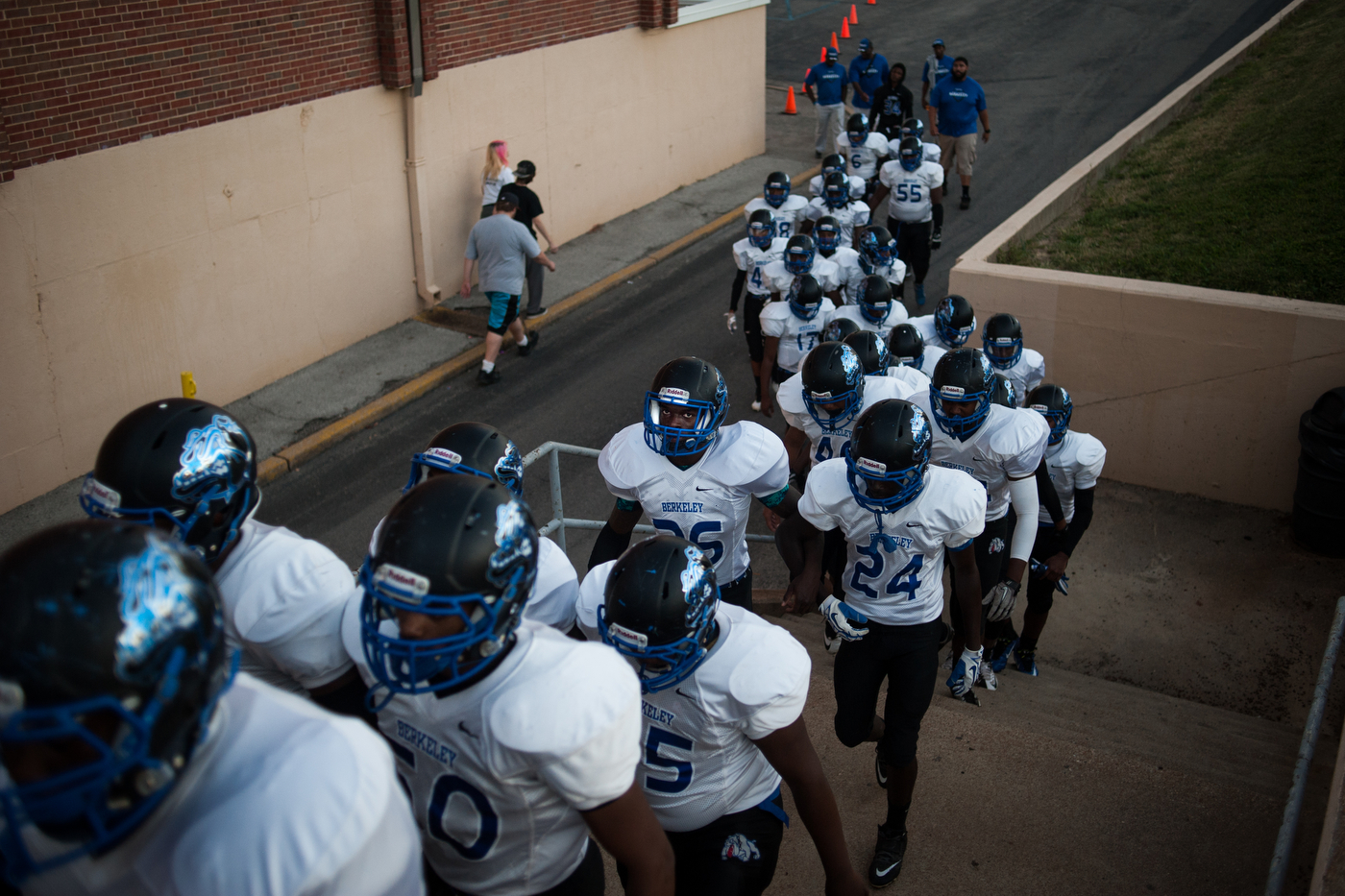 Members of the McCluer South-Berkeley football team make their way to the field at an away game against opponents at a school some distance across the city. The team is composed of all black students, which is similar to the makeup of their school itself.
Ant and the rest of the Fatty Gang, many of whom are a part of the neighborhood gang Rush Mob, hang out on Halpin Drive, just down the street from where their friend Demetrius "Trap" Stegall was shot and killed in 2009. They call this area Trapville, in memory of their friend.
"My Wii and my model cars. That's what keeps me off the streets," says Earl Carter in the basement of his home in Ferguson, MO. Formerly addicted to crack, Carter was honorably discharged from the Air Force but has been arrested over 20 times for traffic violations and is currently suing the city over their de facto debtors prisons.